design thinking initiatives for a better urban life
Posts by Ricker, Claire Vinson
SoundTrek activates space psychically and emotionally by framing and sharing user experience of space in real time and along several experiential axes. SoundTrek is a socio-spatial music sharing mobile application that curates user generated playlists to play back to other users only under specific conditions. Songs are geo-coded and pinned to coordinates along with time, season, weather conditions and user information enabling users to discover, often by surprise, music tied to the spaces they use.
Space + experience = place
In this equation, the built environment plus the experience of that environment equals "place". In 2006, the Project for Public Space asked people how they define "placemaking, " and by far the most frequent and compelling answers included; connection, memorability, shared stories and experience, humanity and the purposeful creation of character and meaning in public spaces. While "place" and "placemaking" often refer to the physical activation of the built environment through design and alteration promoting, usability, the question remains that perhaps there are more subtle techniques that lend themselves to achieving the goals laid out above.
What it takes to "know" a space? What experience of the space leads us to feel connected, to remember, to share, and to feel a space has character and meaning? How did we learn about the spaces we know? What was the lesson and who gave it?
Process
Finding the entry point for this project was no easy task. With the equation above as a template, various ideas were developed from interviews with community activists in Jamaica Plain and East Boston, and videographers in New York City. These included:  Pop-up playgroups based on real-time population data delivered from neighborhood playgrounds, the field and playtime allocation for pick-up soccer games in the city, a project on segregation and public space, and a video mapping project based on MyBlockNYC.org.
The project finally landed on Boston's tour guides, specifically Boston Duck Tours and Cambridge Historical Tours in Harvard Square. Interviews with two of the tour guides who work for these businesses were instrumental in furthering and honing the idea that resulted in SoundTrek. Often tour guides are professional actors who may or may not live in the area. Their job is to entertain. While they pride themselves on their research and local knowledge, they are often directed to recommend certain places and businesses in the city. They share historical and trivial anecdotes about the actual built environment and but their lessons lack the experiential element of the space, thus depriving it of "place." Adding the element of experience to the lesson of space led to interviews and videos of local people who shared their "favorite places in Boston." Locals can teach us about both space and their personal experience in the space, but does their experience resonate with us?
Needle Drop
The 'needle drop' is a term used in movies when popular music is laid on a scene in place of traditional score. Nobody knows this better than Quentin Tarantino. Tarantino explains his attention to detail when it comes to music in film in an interview with Arts District. "To me, my soundtracks work as two different things. They work as a little shadow version of the movie itself. If you like the movie and you want to carry it around with you and not have to watch the story all the time but still get the feel and sense of it, they allow you to do that." Music can be used as shorthand to quickly illustrate a state of mind, an emotion or an experience, it is intimate and connecting. When watching a movie, one knows exactly what to feel at any moment via the scene and soundtrack. SoundTrek would allow users, much like a film director, to frame their real-time, physical scene by "dropping" the perfect audio track to capture the moment and then share that moment with an audience of other users. With one song users could share the idea that "this is me in this space at this moment" thus transforming a space into a place and achieving some of the goals of the Project for Public Spaces; connection, memorability, shared stories and experience, humanity and the purposeful creation of character and meaning in public spaces.
Mapping/Data
The final review of SoundTrek, the idea and rough design, raised interesting questions about data collection and analysis. Presumably one could take the emotional temperature of a city or even a part of the city using the songs and playlists as data points. Over time, cities could be compared to each other and a better data metric for "happiness" could be established. Another interesting piece could be data collected over time in a single city and how the music sharing related to changing demographics and ethnography.
Final thoughts
SoundTrek is an idea and application that works best in an urban setting because living in the city increases the odds of serendipitous encounters. SoundTrek is the record of a personal moment, though ephemeral, that can lead the user to new discoveries, experiences or feelings. Its expression as a mobile app does not hinder the rhythm and movement of the user through the built environment. SoundTrek is calculated urban serendipity, a romantic, sentimental concept perhaps, but one that provides emotional, intimate, spatial connection in otherwise routine and anonymous urbanity.
SoundTrek is a socio-spatial music sharing mobile app that takes you on an augmented sensory journey through urban space. SoundTrek runs in the background on your phone, IPod or other GPS enabled device. When in "drop mode", much like a film director, users can frame their real-time, physical scene by "dropping" the perfect audio track to capture the moment. When users in "listen mode" get close to a geocoded marker, SoundTrek turns down their music and turns up an audio file that has been "left" there for them to find, delivering user-generated content that is temporal, seasonal, environmental and site specific. SoundTrek is a new way for people to share their city and their urban experiences in a way that is subtle, intimate, and personal. It is effective, effortless place-making that provides the opportunity for those who use the space to share their experience of the space with other users.
THINK BIG
How can I promote knowledge of space that is specific to actually being in the space? For the most part, we're introduced to different spaces by someone who already has that knowledge. Originally I was trying to find a way to enable access and knowledge of space via social networking, apps, etc. through locally generated user content. However as the project has progressed, I've zeroed in the idea of "Boston" and its "spaces" as taught/shown by professional tour guides. Where do they get their information? Are their tours edited in any way by the corporate tour operators? Are they even from Boston? What do they think is missing from the tour? What if they had to give a tour to an audience of locals? Is authenticity of the experience/showing/teaching of Boston irrelevant?
Where is this going? I'm preoccupied with 2 questions: 1. Are visitors to Boston who do NOT desire the "knowledge of urban spaces" achieved by actually being there learning anything that is authentic or ideosyncratic about Boston specifically? Can you learn a city from the back of a duck boat? 2. The mirror to this would be; are visitors to Boston who use services like airbnb or yelp perhaps to have a more "authentic" experience of a city missing out as well? Regular local friends or tour guides aren't going to take visitors to the "usual" spaces, but aren't these spaces part of an "authentic" Boston experience too? Can you learn a city by ignoring its major, popular attractions?
START SMALL
There are at least 6 major tour operators in the city of Boston with maps and advertisements in major Back Bay hotels; the Marriot, the Westin and the Sheraton. On Sunday I visited the hotels and picked up every map and tour brochure available. (I was actually in the lobby of the Marriot when the Dalai llama arrived – thrilling!) The tours fall into mainly 3 categories; walking, on-off trolley loops where you're encouraged to hop on and off the trolley and explore on your own, and motorized land-sea vehicle tours. There are other, more specialized tours where bikes or even Segways are used to get around.
I chatted with Deb, the desk representative for Old Towne Trolley tours and told her I was a local. Old Towne Trolley tours is actually a chain that operates in several cities. I asked Deb if she knew how Old Towne had plotted the route for their tour but she didn't know. Interestingly an email I received back from Boston Duck Tours President and CEO Cindy Brown made the same claim. But I've been in contact with the founder of Cambridge Historical tours Daniel Berger-Jones and am trying to arrange and interview to specifically address this question. I'm also hoping he can connect me with more actual tour guides to interview.
I also visited the Boston Convention & Visitors Bureau unannounced & with no appointment but couldn't get past the front desk. I did collect the names of a few people there who might be helpful with background information about how Boston is "marketed" to visitors.
As it was raining and I'm broke, I did not take a Duck Tour (30$ bucks!) nor did I visit Cheers. Yet.
I've established a few good connections and am following up with interviews this week.
GSD-Academic – Judith Grant Long Associate Professor of Urban Planning who studies the planning and effects of tourism on cities. Robert Pietrusko who will hopefully help me represent all this digitally/visually.
Corporate Tour Operators – Cindy Brown, President & CEO of Boston Duck Tours, Debi Jo Michael, Rick Steves' Europe – Tour Operations & Planning,
Daniel Berger-Jones, Founder Cambridge Historical Tours
Background/Big Picture – Mike Healy, GSD Student and former tourism professional/tour guide, Pam Frechette, Visitor Marketing Manager Boston Convention & Visitors Bureau
I've also been down to Duck Tours twice and had some informal chats with tour guides and tour workers.
Next steps will be gathering expert info from my connections, mapping the tour routes and researching alternative stops, sights, spaces and developing my tour guide interview questions.
I thought I was pretty much underway with my project, however after my desk crit last week it was suggested (gently) that I'm still circling, raptor-like. My original thought was to start collecting video of some lesser known space in Boston and work with the New Urban Mechanics and MyBlockNYC on a mapping project that might show more of the city through more eyes. I've also reached out to Ed Walker to talk about publicizing and reinvigorating spaces. I thought I might work with the group who approached Chris and Kate about a project on segregation. But I think I went too specific too fast.
THINK BIG: How do I get people in Boston out of their "space & place" comfort zones? How do I get them to different parts of the city without resorting to games & gimmicks?
START SMALL: I'm approaching this question from a new angle. I've reached out to a few non-Bostonians and asked them to create a tour of Boston based on anecdotal and web-based knowledge. I think I'm too ingrained in my own Boston experience to actually think like a tourist, or like someone who hasn't been to Boston before and it's giving me tunnel vision.
ACT NOW: This weekend, God help me, I'm going to go on at least one of the devised tours. For all my blustering about knowledge of space, there are more than a few spots I haven't been in Boston for the sole reason that they're tourist traps. I've never been to Cheers. Who knows? Cheers could be the most amazing place on the planet and I've been missing out all these years.
I would dearly love and cherish any thoughts on, and suggestions for, research and people who can help. Again, I'm stuck on this "knowledge of space" thing and I'm not sure where it's going.
Think Big:
I want to help Boston support and promote hyper-local knowledge of space to improve racially/ethnically segregated and economically stratified socio-spatial interaction/habitation. In other words, how can cities use digital crowdsourcing and geosocial networking to make more city spaces visible to more people?
Start Small:
MyBlockNYC.com is an interactive mapping website that captures and presents personal video accounts of the life and culture of New York City with the goal of creating an intimate, evolving, and complete portrait of the city. New Yorkers upload videos they take of their neighborhood which are then geo-tagged and organized geographically, thus building an interactive video map of New York. I've contacted the developers of myblockNYC.com about their site and what it would take to expand the tool to Boston. I've also contacted Boston Mayor Menino's New Urban Mechanics lab and asked for the contact information of the group working on segregation that was mentioned in our studio's meeting last Thursday.
Act Now:
While I'm waiting to hear back from the New Urban Mechanics lab, this weekend I plan to start taking my own video of some of the neighborhoods identified as relatively homogenous via 2010 census data.
This is an awesome site where New Yorkers can help map out the texture and culture of the city with their own videos. The site calls on residents to upload personal video accounts of their experiences in NYC, which will be viewable by geography. Each video helps to build out the website, block by block. I would love to see this done in Boston. I'm going to try to get this done in Boston.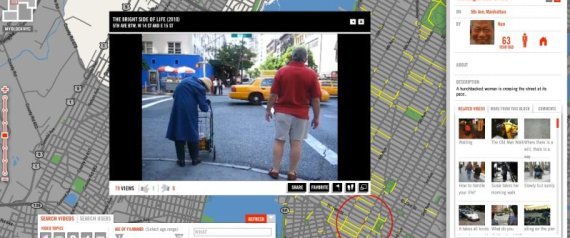 http://www.theatlanticcities.com/jobs-and-economy/2012/09/search-real-estate-models-prosumer-society/3208/
Ricker, Claire Vinson
It appears that Ricker, Claire Vinson hasn't tweeted anything yet.